Last September, six young people from South Africa, one of which had won a contest that gave them 10 days on Route 66 from Chicago to L.A., arrived at Chicago O'Hare Airport and had a trip across America they will remember a lifetime.  My wife and I had put the trip together for the company in South Africa that gave away this fantastic prize.  We actually did the trip with them, providing information along the way about Route 66, its history, the local sights, museums, gas stations, road houses, diners, and other attractions along the way in these small towns that Route 66 traveled through.
We picked them up in a Limo at the airport and had a grand entry into the Chicago Loop.  After checking into their hotel on the Chicago River, we took them on the Chicgo Hop On Hop Off tour of Chicago.  This was the first time all of them but one had been out of South Africa and the first time one of them had flown, so they were very excited.  Maggie's comment – "it is scary driving on the wrong side of the road!"
Dinner was at Riva on Navy Pier with the Chicago skyline and lakefront for a view.  As you can imagine, after flying for 18 hours, they were tired, so shortly after dinner, they were ready for bed.
The next day we began our trek across America on Route 66 with breakfast at Lou Mitchell's, a Route 66 icon located close to the loop in downtown Chicago and right on the original Route 66.  We all loaded up in the motorhome and left the loop traveling on I-55, which in this part of Illinois, follows closely with the old highway.  Leaving Chicago was interesting, trying to find the original Route 66  with all  the freeways and toll ways.  Our next historic Route 66 location was Del Rheas Chicken Basket in Willowbrook, IL.  Del Rheas was originally a gas station lunch counter.  As the highway traffic grew, so did the lunch counter. We had to try the "world famous Fried Chicken" as the sign says and they are right, this fried chicken rivals mom's.
Next we traveled through Joliet, Braidwood, Gardner, Dwight, Odel.  A stop at Gardner's gangster hangout, the Riveria Roadhouse, proved to be fun for our South Africans as they had heard of Al Capone and they were fascinated to relive this part of Route 66 history.   Pontiac, IL is home to the Illinois Route 66 hall of Fame and Museum.  Our stop here was much longer than planned as the pictures and memorabilia in the museum was too interesting to leave.
Illinois highway department has done a great job of marking the old sections of Route 66 that are still drivable today with large Route 66 signs painted on the highway.  We drove on most of these old sections, staying off of I-55.  Entering Normal on the old highway was very interesting as we traveled by some great old buildings that at one time housed gas stations, diners, roadhouses and auto courts (Motels).
Dinner was in Springfield, IL at the Cozy Dog Drive-In before we retired to our campground and our RV.  More tomorrow!  Tune again for the continuing saga of modern day Route 66 travelers.
Day 3 we traveled from Springfield, IL to St. Louis, MO
a total of 100 miles, however, there are so many
interesting historic places on this route, we took our time and enjoyed reading the historic plaques and stories behind each one as we traveled.  The Ariston Cafe garnered a reputation for being the finest dining establishment between Chicago and St. Louis and it is still operating today with the same reputation.  The Soulsby Shell Station in Mt. Olive, IL has been restored, however, it began life in 1926.  The Chain of Rocks bridge that connected Mitchel, IL to St. Louis was a favorite of our South Africans.  The bridge has not served vehicular traffic since 1968 when more modern bridges replaced this historic relic.  Traveling through St. Louis on old Route 66 we took a detour to the Gateway Arch and took the Tram to the top for great views of St. Louis and the Mississippi River traffic.  An icon in St. Louis that still lives on today is Ted Drewes Custard Shop.  We stuffed ourselves on their wonderful custard before we continued west on I-44 to the Route 66 KOA at Eureka, MO
Day 4 We found a wonderful old roadhouse – Elbow Inn – located on the Big Piney River at Devils Elbow.  The roadhouse is still going strong despite the fact the Interstate has bypassed this area by 5 miles or so. There's also a great old steel truss bridge that carried Route 66 over the river until the Interstate bypassed this loop. A short distance further up old 66 is the famous Hooker Cut.  This was the deepest rock cut in America in 1946 when it was constructed.  Our travels took us into the Ozarks, the beautiful hill country.  As we traveled through this scenic area, it was interesting to see each town's pride in having a piece of Route 66 history.  Each town had painted the Route 66 highway sign on the road so travelers could follow the route as it wound through town.  The towns were obviously proud of their heritage and the people we met were happy to share their stories with us.  Tonight we camped in Springfield, MO KOA.  We continue our road trip tomorrow on Route 66.

Days 5 & 6 Springfield, Mo to Oklahoma City, OK
Day 5 we pack up our RV and head out on the open road traveling through Halltown, Paris Springs Junction, and other small towns that at one time populated the length of Route 66 as the road traveler wound his way West.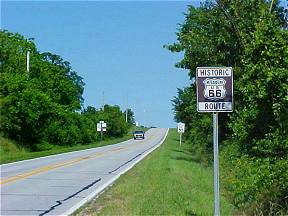 Web City, MO had some of the most beautifully preserved Victorian homes that attest to the time when it was one of the richest cities in America.  Webb City was a mine owner's town and Joplin, MO was a miner's town.  Our South Africans are again amazed at the American history that populates this ribbon of travel westward.  The old portion of Route 66 west of Joplin that travels a short distance through Kansas, travels though the mining town of Galena, KS.  Galena during its lead mining heyday, the late 1800s to 1973 when the mines played out, was a very prosperous place. Our next stop was at the Eisler Brothers Store in Riverton, KS – see above video.
Click on above link for video of Eisler Brothers Store in Riverton, Kansas
Oklahoma is our next state west.  We stopped in downtown Miami, OK for pictures of the Coleman Theater.  This beautiful Spanish Revival style theater was built in 1929 by George Coleman, a mining millionaire.  His idea was to bring culture to Miami.  At Miami we got on the Will Rogers Turnpike for a short distance.  Our South Africans had heard that the largest McDonald's Golden Arches were on this turnpike at Vinita, OK and they had to stop to see it.  Because they had spent so much time at some of our stops, they decided to stay on the turnpike to Tulsa.  At Sapulpa, OK we go off the turnpike and traveled the rest of the way into Oklahoma City on the two lane mother road.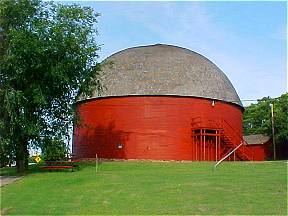 The Round Barn is another Route 66 icon in Arcadia, OK.  The round barn was built in 1898 by William Harrison Oder, his family members and neighbors.  Locals told him it could not be built, contrary to their predictions, he persevered.  In its day the lower level was used for cattle and the upper level, or loft, was used for barn dances and social gatherings.  Today it is a museum.  Arcadia is only a short distance from our overnight stop at the Twin Fountains RV Park.
Day 6 Oklahoma City to Amarillo, TX  Today, our South Africans said they had hear about a bombing of a building  in Oklahoma City and they wanted to know if they could visit the memorial.  We set off for downtown Oklahoma City and the Oklahoma City National Memorial and Museum.  They were quite taken with this memorial.  We spent time walking through and talking with the Park Rangers that were kind enough to tell them about the event and answer their questions.  I was also very taken with the memorial and will come back to spend more time.
West of Oklahoma City the landscape changes from rolling hills with trees, to rolling hills without trees and lots of wind.  El Reno and Bridgeport, OK have some wonderful old buildings and the steel truss Pony Bridge over the Canadian River.  This bridge was used in the 1939 film Grapes Of Wrath.  Our next stop is Hydro, OK and Lucille's gas station.  This historic station was built in 1929 and in 1941 Lucille and Carl Hamon became the new owners.  Lucille ran the business for 59 years.  See video of Lucille's station:
Click on the above link for a video movie of our stop at Lucille's Station Hydro, OK, Shamrock's Tower Station & U-Drop Inn, Shamrock, TX, and a wonderfully restored Phillips 66 station and truck in McLean, TX and of course the Big Texan Steak House in Amarillo.  We overnighted in Amarillo at the KOA on old Route 66.  As you can see from the videos, we had a great time and our friends from South Africa became true roadies. Tomorrow, Amarillo to Albuquerque on the Mother Road with more wonderful glimpses of our parents travels across this great land.
Day Seven: Amarillo, Texas to Albuquerque, New Mexico on the Mother Road.  Today we woke up to a rainy day, the first one on this trip.  It had rained most of the night, so Amarillo was a soggy sight for our South Africans.  We traveled along the old road as often as we could today, however, I-40 has mostly covered over Route 66.  So today we were on the Interstate most of the day with the exceptions of jumping off at each little town and driving through to see some of the buildings still standing.
Our first landmark a short distance west of Amarillo is the Cadillac Ranch.  Stanley Marsh III, a helium millionaire who owns the wheat field where these "golden age"  Cadillacs are half-buried, nose-down, facing west at the same angle as the Cheops' pyramids, has a reputation.  He has had a few run-ins with the law over his brand of enforcement.  In 1994, he was accused of threatening an 18-year old with a hammer and penning him inside a chicken coop for steeling one of his signs.           As you can see, the day was a bit rainy and the walk out to the Cadillacs Cadillac Ranch Amarillo, TX
was muddy. We opted to stay dry and get our photos from the roadway.
Our next stop was Adrian, TX.  We had heard about a little place called Mid Point Cafe in Adrian, TX from the guy that owned Del Reys Chicken Basket in Willowbrook, IL  He said this place was not to be missed as the two ladies that owned the Cafe made the best pies on all of Route 66.  The Mid Point Cafe gets its name because Adrian, TX is exactly the mid point between Chicago and L.A. on old Route 66.  The pies were great and the place was very homey.  Even though  it was mid morning, we all had to have some of her wonderful pie.
Our next stop was Tucumcari, New Mexico.  The downtown section of Tucumcari has changed little since Route 66 heydays.  The old motels and their signs look like they are beckoning a road weary traveler of the 60s or 70s.
Albuquerque was our overnight stop for today at the KOA just off old Route 66 in East Albuquerque.  The Albuquerque Balloon Fiesta was in full swing as we arrived, as was the Old Town Albuquerque Arts and Crafts Fair.  We decided to spend some time at the Crafts Fair where they were able to buy original gifts to take back to South Africa for friends and relatives.  We had to treat our South Africans to a true New Mexican dinner, so we opted to take them to the Owl and they were not disappointed.  Nashlin was amazed at how hot the sauces were, he kept asking for a hotter sauce and the waitress kept bringing him one more to try.  He had tears in his eyes when he finally said enough!
Tomorrow we will see the Balloon Fiesta and travel across western New Mexico, cross the Continental Divide and travel through Navajo country on our trek west on the Mother Road.  Keep tuned in for our continuing saga.  Thanks for staying with me!
Day 8 Albuquerque to Flagstaff and Grand Canyon
This morning we woke early to see the mass         ascension at the Albuquerque Balloon Fiesta.  This was a real treat for our visiting guests.  The weather was picture perfect and colorful balloons with all the different characters represented was mind boggling. Obviously during the Route 66 heyday the balloon fiesta was not even thought of as an event, however, we decided that as long as we were here we would take advantage of our timing and enjoy this spectacular event.
Our next stop on Route 66 was the Laguna Pueblo where we met some Laguna people selling their jewelery and art at a roadside stand.  The interesting part of this stop was our visitors' fascination with our native American people and the history which we shared with them.
From Laguna to Grants there are old sections of Route 66 which we drove when available.  Grants and Gallup are the major towns in this section and we opted to check out the many remaining landmarks from the Route 66 glory days.  One stop we definitely had to make was the El Rancho Motel, Gallup, New Mexico.  The El Rancho was "home to the movie stars" as the sign says and during Route 66 heydays, many movie stars stayed here while filming in the area.  All the rooms have movie stars names on them and our guests were wandering the lobby and halls looking at the many pictures of the stars.
We next crossed into Arizona and stopped at Painted Desert then Holbrook for lunch at a Route 66 diner called Joe & Aggie's.  The food was very good, the service excellent.  One room filled with Route 66 memorabilia and items for sale caught our attention as well.
We then drove through Winslow to see the well known statue of a person "standin' on the corner".  Everyone remembers those lyrics! The La Posada Hotel, an old Santa Fe Railroad and Route 66 hotel has been lovingly restored and is now a wonderful place to stay and dine in Winslow.  There are also several other Route 66 buildings that remain from the 50s and 60s.
Next was Flagstaff, AZ with a great remaining part of Route 66 through the complete length of the town.  Downtown Flagstaff also has some great old buildings remaining and most of them have been restored and are doing a booming business as shops, galleries and the like.
Route 66 never went by the Grand Canyon National Park, however, our South Africans said they really wanted to see the Canyon and after having traveled such a great distance, we decided to take a detour from Flagstaff and give them some great views of the Canyon.  As you can see the weather was wonderful and they had a great time.  We actually spent the night at the Mather Trailer Village and they got a chance to see sunset and sunrise at the Canyon, a real treat for them and us.  Imax theater was also on their agenda after which we had tasty pizza for dinner.  Tomorrow we drive the longest continous drivable section of Route 66 and have some wonderful times at our stops.  Stay tuned for more adventure!
Day 9 Grand Canyon to Barstow, California – Route 66 trip for 6 visitors from South Africa
This morning we enjoyed sunrise over the Grand Canyon before we headed out for Williams, AZ where we pickup the "Mother Road" again.  First, thought, we had to have one of Pine County Cafe's famous pies in Williams, to strengthen us for our jaunt across Arizona.  Williams was one of the last sections of Route 66 to be retired and bypass Williams by Interstate 40.  The businesses in Williams have managed to survive after the highway bypass mostly because of the Grand Canyon Railway and its marketing effort to bring travelers to this area.
From Williams to Ashfork, AZ we stayed on the Interstate as Route 66 has been completely obliterated by I-40.  Ashfork still has a section of the old road and a short way west of Ashfork, there's a interchange to exit the freeway and travel the longest continuous section of Route 66 still drivable anywhere.  You can drive from here to Kingman, then Oatman, then to Topock, AZ on the original Route 66 route.  These 161 miles are some of the most scenic and authentic parts of the Mother Road you will find still left today.
Seligman, AZ is a Route 66 town all the way.  A trip  down main street Seligman is a trip back in time to the days when Route 66 was the main street of America.  The Copper Cart, the Supai Motel, the Roadkill 66 Cafe, the Snow Cap Drive-In are all still operating and busy serving the many Route 66 travelers today.  A trip to Seligman is not complete without talking about Juan and Angel Delgadillo, the self proclaimed ambassadors for Route 66.  Juan built the Snow Cap Drive-In out of scrap lumber in 1953 and it is still going strong today.  Juan passed away in 2004, however his legacy continues with each tourist that visits Seligman and stops at the Snow Cap.
As we travel west out of Seligman, the old road travels quite a ways north of the new Interstate route and through a beautiful scenic part of Arizona.  When you think of a straight as an arrow western highway threading its way through buttes and valleys, this is the section you are thinking about.
Our South African guests were really feeling the solitude of a trip west today, and could imagine how it must have been in the 40s and 50s.
We then traveled through Peach Springs, home of the Hualapai Indian Reservation, through Truxton and Valentine.  Hackberry General Store is the mother lode of Route 66 memorabilia.  Our stop here was one of the highpoints of today's trip.This old gas station/store has everything a road weary traveler could want.
The red 1956 Chevrolet Corvette says it all about this place – - the Corvette has been the quintessential touring car ever since Marty Milner and George Maharis aka Tod Stiles and Buzz Murdock traveled Route 66 in search of adventure on their CBS television show Route 66.  Today Hackberry Store is iconic of what we all think of when we think about the Mother Road.  Inside the store, there is even more to see and investigate relating to Route 66.  The pictures tell it all.
From Marilyn Monroe to poodle skirts and bobby sox, this place exudes 50s and 60s America.  You truly feel you have gone back in time and you are in the days when life was slower, easier and non complicated.  Our guests could not get enough of the Hackberry Store, they were enthralled. They even spotted some African currency tacked to the wall along with currency from all over the world.

We then continued on through Kingman, AZ where Clark Gable and Carol Lombard got married,  Andy Devine grew up, and Charles Lindbergh flew into the Kingman airport on a transcontinental air flight.  This Route 66 town still has the flavor of an old highway traveler town.
Just west of Kingman, the original Route 66 travels up into the Black Mountains and across Sitgreaves Pass.  This section of the road was the most treacherous and most feared by the flatlanders as the mountain grades were steep, the road narrow, the curves tight and the dropoffs many.  We drove into Oatman, AZ late afternoon to the braying of a bunch of mules that are the decedents of the miners mules from the turn of the century.  Oatman was a booming mining town at one time and now it is a tourist stop on the Mother Road.  We enjoyed the many old buildings and characters wandering the streets as well as the mules freely moving about the street and sidewalks.
The last of our Route 66 trek today took us through Needles to Barstow, CA.  There's some great old two lane sections of the Mother Road from Barstow to Needles and if you are a movie  buff, there's an old service station and cafe on this section or road, that has been used in many movies.  This is a perfect set when when they need a desolate section of highway through the desert where the pavement goes on forever in a straight line.  The name of the cafe is  Roy's Cafe, Motel and Service Station located at Amboy, California.  This picturesque place is worth the miles of driving across the desert.
We finally arrived mid evening at our KOA in Barstow, California, cook our dinner and relive our wonderful and many experiences and sights today.  Keep tuned for our splashdown at the Pacific Ocean at Santa Monica tomorrow.  Thanks for letting me share my love of our Route 66 history and this great way to see America.
Day 10 on Route 66 through California Mojave Desert and over the Cajon Pass into the lush Los Angeles basin.
Today our South Africans are really excited, they are nearing the end of their adventure on the Mother Road and closing in on the Pacific Ocean.  We travel across the Mojave Desert, another of the challenges that faced our early day cross-country travelers on Route 66.  Many of them drove this section at night to keep them and their cars cooler on their drive through the desert.  Remember, they did not have the luxury of air conditioning or climate control.  They were at the mercy of the elements hot or cold, rain or snow, so they traveled in conditions considerably different that what faces us today.
During Route 66 heydays, orange groves dotted the landscape from the base of the mountains to the coastal plain and they were a welcome site to the road weary traveler after traveling across the Mojave Desert.  Orange Juice stands like the one in the picture, were a common sight along this stretch of Route 66. The old route 66 traveled along the foothills of the mountains traveling west.
Today Interstate 10 is the highway most travelers prefer going from East to West of vise versa through this part of California.  There are some great old buildings along the old road that can attest to the fact that Route 66 was a booming highway at one time.  As we drive along the old route, relics of the past pop up to remind us of its history.
Our objective, as it was for the early day traveler, is the Pacific Ocean at roads end – Santa Monica Pier.  We arrived mid afternoon and the first thing everyone did was put their feet in the Ocean, then walk out to the end of the Santa Monica Pier to say we had been from one end – Chicago Lake Michigan – to Los Angeles, the Pacific Ocean.  Here we are at roads end!
We finished out adventure with a wonderful dinner at Pico One in the Shutters on the Beach in Santa Monica just next to the Santa Monica Pier.  That night we splurged and also stayed the night at Shutters with a great view of the Pacific out of our room windows.   The next morning, our great American Adventure came to a wonderful, but tearful end with an early flight from LAX for our South Africans back to their home where they will remember this adventure the rest of their lives.  My wife and I also will remember them and hold them near and dear as well. They were a delight to be with and we loved sharing our love of our home with Nashlin, Maggie, Theresa, Erika, Deb, and Daryn.  We have been invited to visit them all in Cape Town, and look forward to taking them up on that offer. Thank you all for giving me the opportunity of sharing this great road trip with you all and I would be happy to do it again at any time for you all!